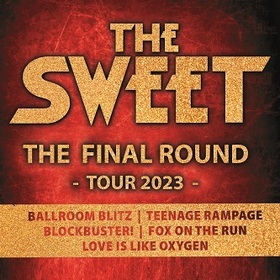 The Sweet - The Final Round - Tour 2023
Rathenaustraße 11
67547
Worms
Tickets from €45.00 *
Concession price available
Event organiser:
The ROM Entertainment Company UG, Hindenburgstr. 33, 72555 Metzingen, Deutschland
Information on concessions
50% Nachlass für Schwerbehinderte (Nur
Kategorie 2)
Event info
Nachdem THE SWEET pandemiebedingt im letzten Jahr nicht nach Deutschland
einreisen durften, ist es nun umso mehr eine Freude, eine der wenigen
berühmt berüchtigten "Glam Rock Bands" mit diversen Chart-Erfolgen in den
70ern, 80ern und 90ern in Reichenbach begrüßen zu können!

Mit über 30 Millionen verkauften Platten weltweit bieten sie viel mehr als
nur Glam Rock. Ihre Musik ist zeitlos und vielseitig - vom reinen Pop bis
Heavy Metal. US Hits waren u. a. "Ballroom Blitz", "Fox On The Run",
"Action" und "Love Is Like Oxygen". Ihr Album "Desolation Boulevard" bekam
Gold. Das Lied "Love Is Like Oxygen", vom Gitarristen Andy Scott
geschrieben, wurde mit zwei Novello Awards ausgezeichnet.

Die Band hatte während der 70er Jahre 9 Titel auf Nummer eins in
Deutschland und steht jetzt kurz vor dem zehnten Erfolg – "Do It All Over
Again", die erste Single vom neuen Album "Sweetlife", welches nun endlich
auch in Deutschland erhältlich ist.

Seit Jahrzehnten performed Andy Scott mit THE SWEET nun schon die Bühnen
weltweit. Fast alle Shows in den letzten Jahren waren ausverkauft!

THE SWEET haben somit an Zugkraft nichts verloren.