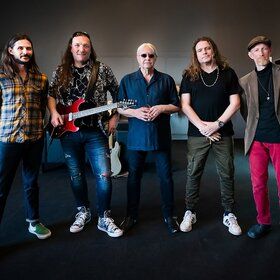 Ian Paice zählt zweifellos zu den besten und einflussreichsten Schlagzeugern, den die Rockmusik hervorbrachte. Mit Deep Purple erlangte der Brite weltweiten Ruhm und entfaltete sein großartiges Talent in Songs wie "Space Truckin'", "Mandrake Root" oder "The Mule".

1949 erblickte Ian Paice im englischen Nottingham das Licht der Welt. Seine musikalischen Anfänge bestritt er mit der Violine, ehe er als Jugendlicher ein Schlagzeug geschenkt bekam. In den Folgejahren spielte er bei The Shindig, The M I 5 und The Maze. Gemeinsam mit dem Bandkollegen Rod Evans bewarb er sich für die neugegründete Band Deep Purple und die Erfolgsstory nahm ihren Lauf. Mittlerweile ist Ian Paice das am längsten erhaltene Mitglied der Hardrocker und trommelt regelmäßig für diverse andere Projekte, beispielsweise für Bernie Marsden, Gary Moore, Pete York oder Paul McCartney.

Ian Paice bewegt sich mit seinem Schlagzeugspiel auf höchstem Niveau und ist das Bindeglied aller Besetzungen von Mark I-VIII. Lassen Sie sich die Gelegenheit nicht entgehen und erleben Sie den Deep-Purple-Drummer live!
Source: Reservix