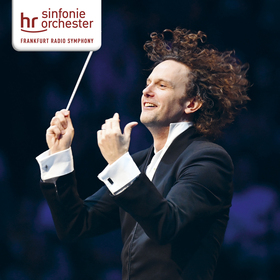 hr-Sinfoniekonzert I Alpensinfonie
Vadim Gluzman, Nicholas Collon, hr-Sinfonieorchester &nbsp
Opernplatz 1
60313
Frankfurt am Main
Tickets from €19.00 *
Concession price available
Event organiser:
Hessischer Rundfunk, Bertramstr. 8, 60320 Frankfurt am Main, Deutschland
Event info
Alpensinfonie

Nature & Earth

Vadim Gluzman | Violine
Nicholas Collon | Dirigent

Magnus Lindberg | Chorale
Erkki-Sven Tüür | 3. Violinkonzert »Gespräche mit dem Unbekannten« (Auftragswerk des hr – Deutsche Erstaufführung)
Richard Strauss | Eine Alpensinfonie


Herdenglocken, Windmaschine, Orgel, zum Riesenorchester noch 16 Bläser aus der Ferne: Richard Strauss errichtete mit seiner »Alpensinfonie« ein klangmonumentales Zentralmassiv – volle Kraft nach oben für die, so Strauss, »Anbetung der ewigen herrlichen Natur«. Nicht um pastorales Naturerleben geht es in dieser Tondichtung, vielmehr um Naturreligion, der Berganstieg wird eine Frage des Arbeitsethos, Befreiung in der Höhe. Übermenschentum spielt hier mit hinein, eine Vision vom neuen Menschen in diesen so selbstbewussten ersten Dekaden des 20. Jahrhunderts. Doch auch ohne diesen zweifelhaften Überbau beeindruckt »Eine Alpensinfonie« noch heute wegen des so wirkungssicheren Einsatzes der musikalischen Mittel und wegen der Suggestivität der Klangbilder. Auf Wirkung versteht sich aber auch Erkki-Sven Tüür, der große Individualist aus Estland, der Avantgarde mit Rock zu verbinden weiß, mal ganz archaisch-minimalistisch, dann wieder eruptiv oder auch einmal pseudo-barock klingen kann. » Gespräche mit dem Unbekannten« heißt sein neuestes Violinkonzert, entstanden im Auftrag u.a. des hr-Sinfonieorchesters, das seit langem mit Tüürs singulärer Klangwelt vertraut ist und es gemeinsam mit Vadim Gluzman und Nicholas Collon in Frankfurt in Deutscher Erstaufführung präsentiert.

Konzerteinführung: 18 Uhr
Konzertdauer: ca. 125 Minuten – inklusive Pause
___________

Herd bells, wind machine, organ, to the giant orchestra still 16 wind instruments from afar: Richard Strauss built with his »Alpensinfonie« a sound monumental central massif – full power upwards for the, according to Strauss, »worship of the eternal glorious nature«. This tone poem is not about pastoral experience of nature, but rather about nature religion; the mountain climb becomes a question of work ethic, liberation in the heights. Superhumanity plays a role here, a vision of the new man in these so self-confident first decades of the 20th century. But even without this dubious superstructure, »Eine Alpensinfonie« still impresses today because of the so effective use of musical means and because of the suggestiveness of the sound images. Erkki-Sven Tüür, the great individualist from Estonia, also knows how to combine avant-garde with rock, sometimes sounding archaic-minimalist, then again eruptive or even pseudo-baroque. »Conversations with the Unknown« is the title of his latest violin concerto, commissioned by the hr-Sinfonieorchester, among others, which has long been familiar with Tüür´s singular sound world and is presenting the German premiere in Frankfurt together with Vadim Gluzman and Nicholas Collon.

Concert introduction: 6 pm
Concert duration: about 125 minutes – including break
Event location
Alte Oper
Opernplatz 1
60313 Frankfurt am Main
Germany
Plan route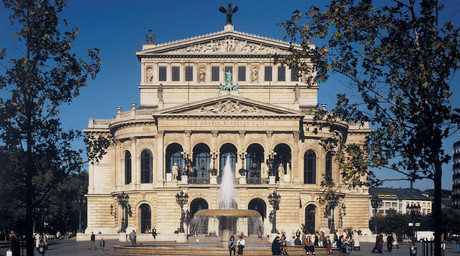 Mitten in der Frankfurter Innenstadt steht die "Alte Oper Frankfurt". Sie lockt mit Konzerten und Veranstaltungen der Spitzenklasse. Künstler wie Martha Argerich, Alfred Brendel oder Hélène Grimaud, sowie die "Berliner Philharmoniker" sind hier schon aufgetreten.

Seit 1880 bietet die "Alte Oper Frankfurt" Raum für Musik und Feste. Daran konnten auch "Dynamit-Rudi´s" Pläne, das Gebäude in die Luft zu sprengen, nichts ändern. Und seit der Eröffnung zieht die Oper prominente Künstler und Gäste an. Kaiser Wilhelm der 1. kam zur Eröffnung zu Besuch und Carl Orffs "Carmina Burana" wurde hier 1937 uraufgeführt. Und so hat sich zwischen den Bürotürmen ein wichtiges Stück Stadtgeschichte gehalten. Dem Schriftzug über dem Eingang "Dem Wahren, Schönen, Guten" entsprechend, ist die "Alte Oper Frankfurt" ein Garant für ein tolles Programm und unvergessliche Konzertabende. Der große Saal bietet mit 2500 Sitzplätzen genug Platz für große Konzerte, der "Mozartsaal" schafft mit 700 Plätzen eine intimere Atmosphäre.

Die "Alte Oper Frankfurt" ist eine feste Kulturinstitution. Sie genießt weit über das Rhein-Main-Gebiet einen sehr guten Ruf. Hier wird Kunst perfektioniert.