hr-Sinfoniekonzert | Don Juan
Opernplatz 1
60313
Frankfurt am Main
Tickets from €17.00
Concessions available
Event organiser: Hessischer Rundfunk, Bertramstr. 8, 60320 Frankfurt am Main, Deutschland
Event info
DON JUAN
Pariser Sinfonien

ALISA WEILERSTEIN | Violoncello
ANDRÉS OROZCO-ESTRADA | Dirigent

Joseph Haydn | Sinfonie Nr. 82 (»L'ours / Der Bär«)
Thomas Larcher | Ouroboros – für Violoncello und Orchester
Richard Strauss | Don Juan
Richard Strauss | Rosenkavalier-Suite


Vergänglichkeit und die Unerbittlichkeit der verfließenden
Zeit, das sind Themen, die Richard
Strauss sowohl in der Tondichtung »Don Juan«
als auch im »Rosenkavalier« in rauschhafte
Musik übersetzte. Hier der Lebemann, dessen
Eros verstummt ist, dort die alternde Gräfin und
der aus der Zeit gefallene Baron Ochs. Doch
alles kehrt wieder, die zum Kreis gebogene
Schlange beißt in ihren eignen Schwanz – das
mythologische Bildsymbol des Ouroboros hat
Thomas Larcher als Titel für sein 2015 entstandenes
Werk für Cello und Orchester gewählt.
Was vergeht, wird neu geboren.

___________

Transience and the relentlessness of passing time
are the themes that Richard Strauss translated
into ecstatic music, both in his tone poem »Don
Juan« as well as in the »Rosenkavalier«. Here the
libertine whose Eros has fallen silent, there the
ageing Countess and the timeless Baron Ochs.
But everything returns, the snake has coiled up
to form a circle and bites its own tail – Thomas
Larcher chose the mythological symbol of the
Ouroboros as the title for his opus for cello and
orchestra which he composed in 2015. What fades
away will be reborn.
Location
Alte Oper
Opernplatz 1
60313 Frankfurt am Main
Germany
Plan route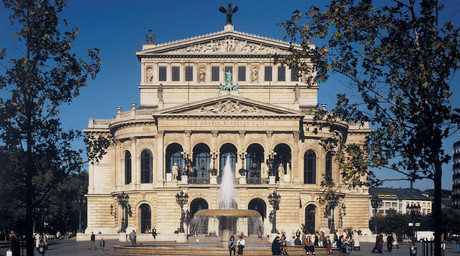 Mitten in der Frankfurter Innenstadt steht die "Alte Oper Frankfurt". Sie lockt mit Konzerten und Veranstaltungen der Spitzenklasse. Künstler wie Martha Argerich, Alfred Brendel oder Hélène Grimaud, sowie die "Berliner Philharmoniker" sind hier schon aufgetreten.

Seit 1880 bietet die "Alte Oper Frankfurt" Raum für Musik und Feste. Daran konnten auch "Dynamit-Rudi´s" Pläne, das Gebäude in die Luft zu sprengen, nichts ändern. Und seit der Eröffnung zieht die Oper prominente Künstler und Gäste an. Kaiser Wilhelm der 1. kam zur Eröffnung zu Besuch und Carl Orffs "Carmina Burana" wurde hier 1937 uraufgeführt. Und so hat sich zwischen den Bürotürmen ein wichtiges Stück Stadtgeschichte gehalten. Dem Schriftzug über dem Eingang "Dem Wahren, Schönen, Guten" entsprechend, ist die "Alte Oper Frankfurt" ein Garant für ein tolles Programm und unvergessliche Konzertabende. Der große Saal bietet mit 2500 Sitzplätzen genug Platz für große Konzerte, der "Mozartsaal" schafft mit 700 Plätzen eine intimere Atmosphäre.

Die "Alte Oper Frankfurt" ist eine feste Kulturinstitution. Sie genießt weit über das Rhein-Main-Gebiet einen sehr guten Ruf. Hier wird Kunst perfektioniert.