Zu Ihrer Sicherheit und der weiteren Eindämmung des Coronavirus finden alle Veranstaltungen unter Einhaltung der gesetzlichen Vorschriften statt. Bitte beachten Sie die Hygienemaßnahmen vor Ort.
Rescheduled
Previous date:
Belvedere
Support: Darko / Walt Hamburger &nbsp
Murnaustraße 2
65189
Wiesbaden
Event organiser:
Kreativfabrik Wiesbaden e.V., Murnaustraße. 2, 65189 Wiesbaden, Deutschland
Event info
Canadian skate-punk legends Belvedere barely need an introduction. They are heroes of fast, furious, melodic punk, who've never lost sight of their roots.

2020 marked the 25th year of the band's history, but since all of their tours were moved to 2021; the band felt the need to write and record their 6th full-length instalment, Hindsight Is The Sixth Sense. The album features a furious mix of old and new. The new direction in song writing is attributed to new members Dan Wollach on guitar and Ryan Mumby on bass. The all-familiar speed, the riffs, the insightful lyrics and singalong harmonies are all still there thanks to drummer, Casey Lewis and lead singer & founder, Steve Rawles.
Videos
Event location
Kreativfabrik Wiesbaden e.V.
Murnaustraße 2
65189 Wiesbaden
Germany
Plan route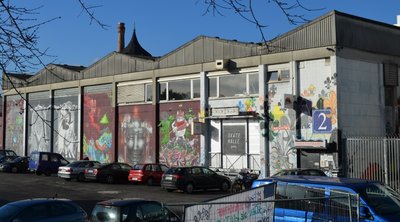 Auf dem ehemaligen Schlachthofgelände in Wiesbaden ist ein Kulturpark entstanden, zu dem seit 2002 auch die Kreativfabrik e.V. zählt. Die Türen der Kreativfabrik stehen dabei für jeden offen, der Ideen ausprobieren möchte, gemeinsam etwas für andere tun will oder das umfangreiche Veranstaltungsprogramm entdecken mag.

Aus dem Bestreben heraus, in dem neu entstehenden Kulturpark ein Haus der Begegnung einzurichten, entstand 2002 der Verein Kreativfabrik Wiesbaden. Er setzt sich aus einer bunten Gruppe aller möglichen Organisationen, Parteien und Altersgruppen zusammen und wird so auch der Vielfalt der Jugendkultur Wiesbadens gerecht. Rund um Kultur, Musik, Politik und Jugend findet man in den Räumen des früheren Fleischereinkaufs alles, was man sich vorstellen kann: Probenräume für Bands, Seminarräume und ein Gemeinschaftsraum mit Küche können auch für private Anlässe genutzt werden.

Mit dem Krea-Keller in der Kreativfabrik ist Wiesbaden um einen Veranstaltungsort reicher geworden: Hier wird seit 2009 ein facettenreiches und vor allem kreatives Programm geboten. Ausgelassene Partys und Konzerte aber auch Lesungen, Theatervorstellungen, Kunstausstellungen oder politische Veranstaltungen finden hier statt und beleben das Schlachthofgelände wieder.